This is the first of a two-part series featuring a set of 9 special stamps issued by the United States Postal Service between 1934 and 1978. The first part covers the stamps issued from 1934 through 1937.
James Farley was postmaster during this time and is probably best known Farley's Follies, a set of stamps initially printed and issued privately to President Roosevelt and friends, but later leaked to the public and sold for very high prices. As a result of public outcry, the entire set was reprinted and made widely available at face value. I'll share my scans of those stamps at a later time.
.As outlined below, they were issued for a variety of reasons, and form a special part of US postal history. They are some of my favorite stamps.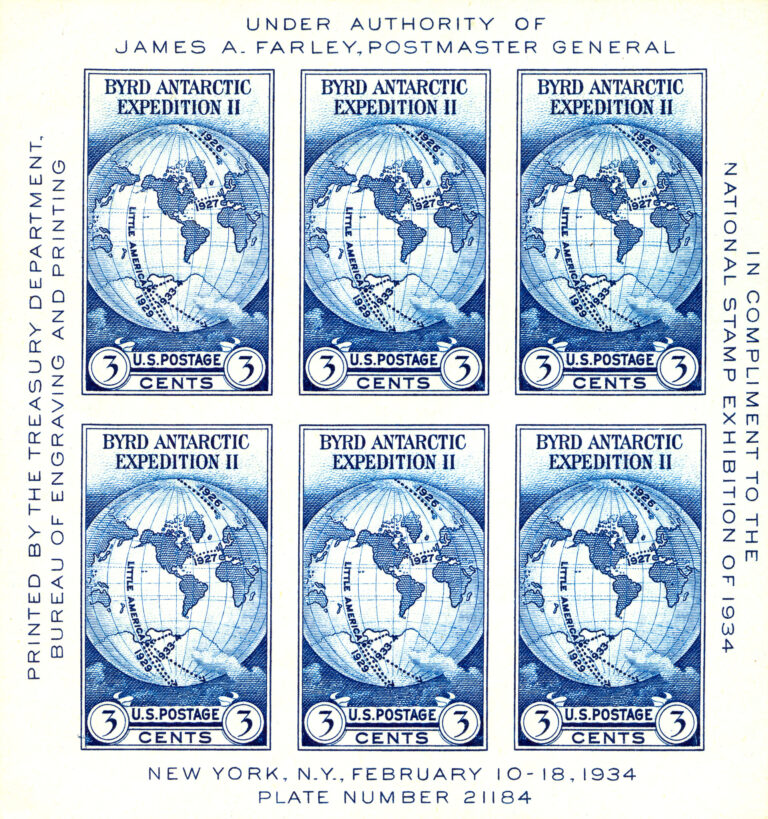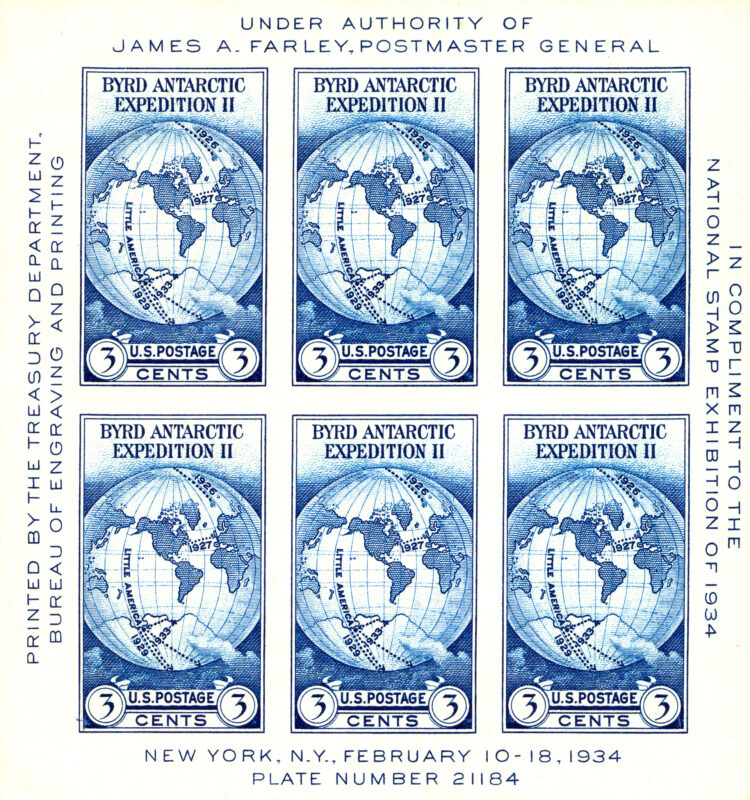 US #735 – Byrd Antarctic Expedition – This 6-stamp souvenir sheet was printed at the National Stamp Exhibition. It was issued without gum or perforations. The sheet was only available at the exhibition while it was in progress. After February 19, it was placed on sale through the Philatelic Agency. The stamp honors Rear Admiral Richard Byrd's exploration of Antarctica.
---
US #750 – American Philatelic Exhibition Sheet – Part of the National Parks Series, this sheet was issued in conjunction with the American Philatelic Society's Convention and Exhibition being held in Atlantic City. The sheet contained six 3¢ stamps featuring the breathtaking beauty of Mt. Rainier.
---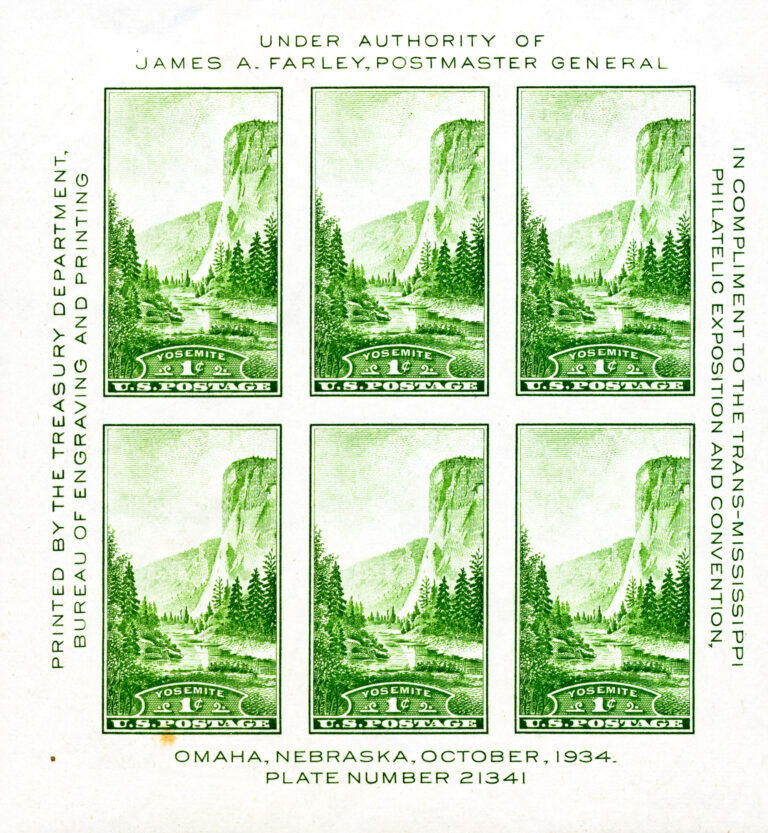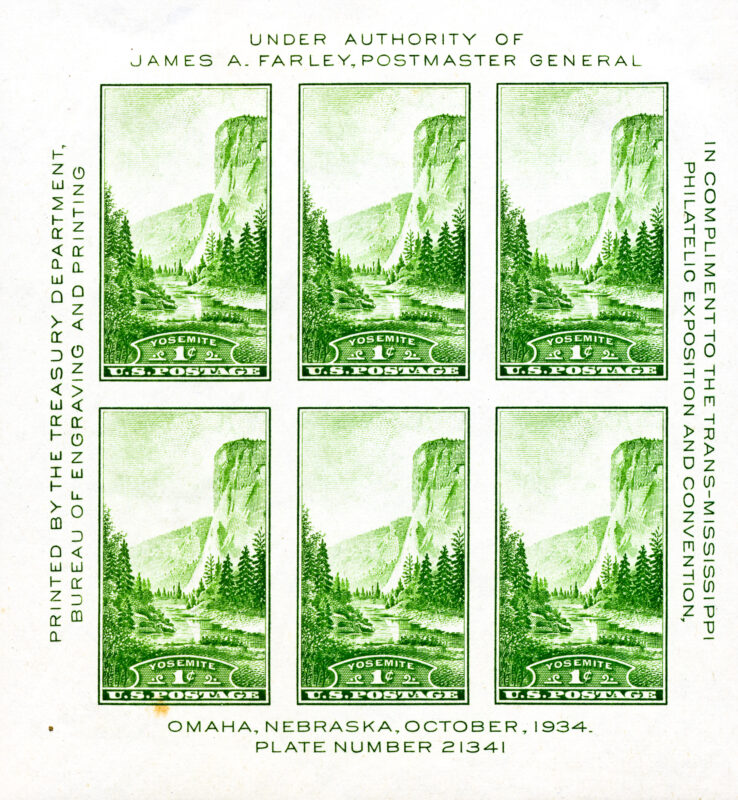 US #751 – Trans-Mississippi Philatelic Exposition – Also part of the National Parks Series, this souvenir sheet was issued in conjunction with the Trans-Mississippi Philatelic Exposition and Convention held in Omaha, Nebraska. The sheet contains six 1¢ stamps featuring the mountain known as El Capitan.
---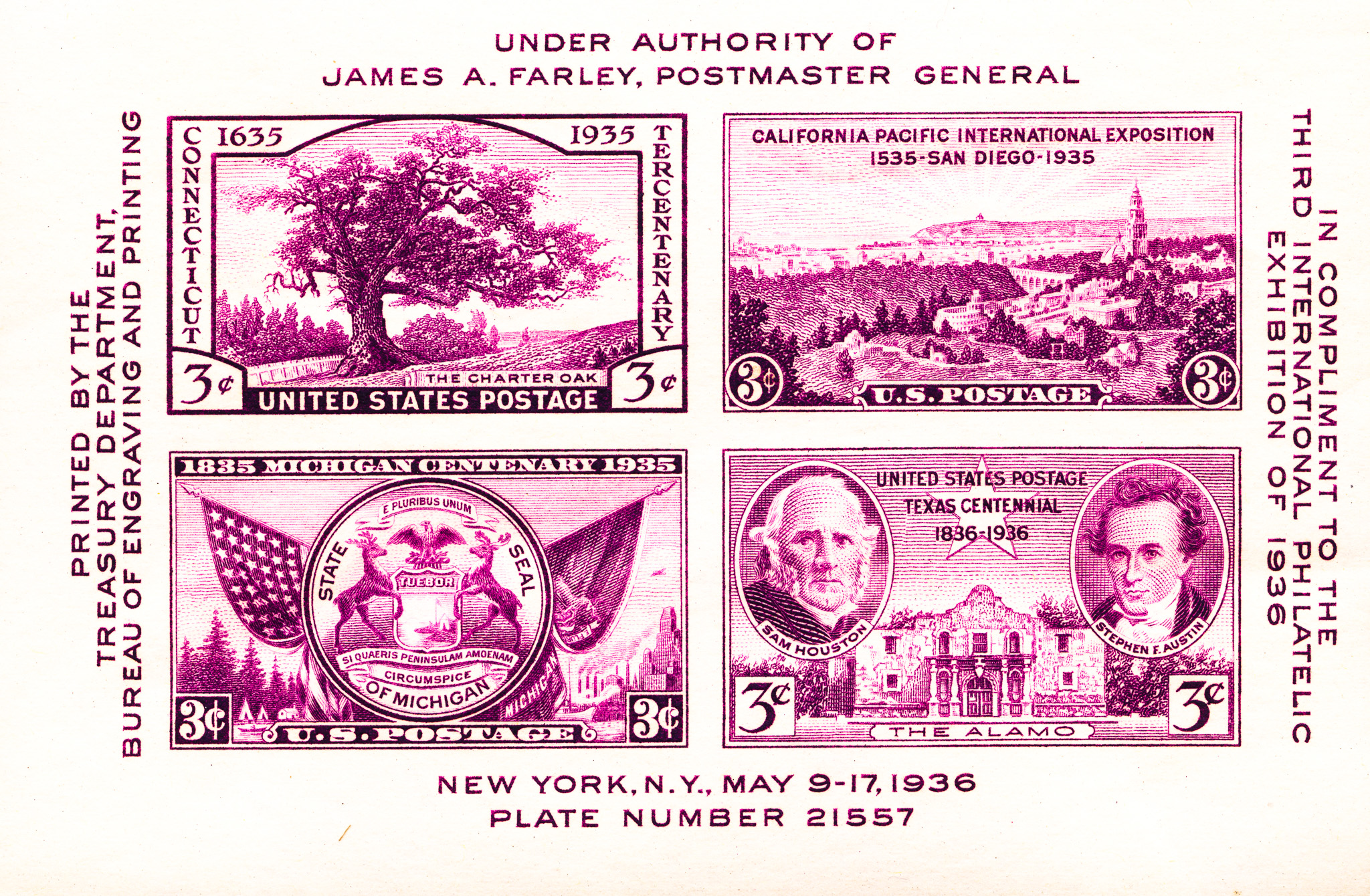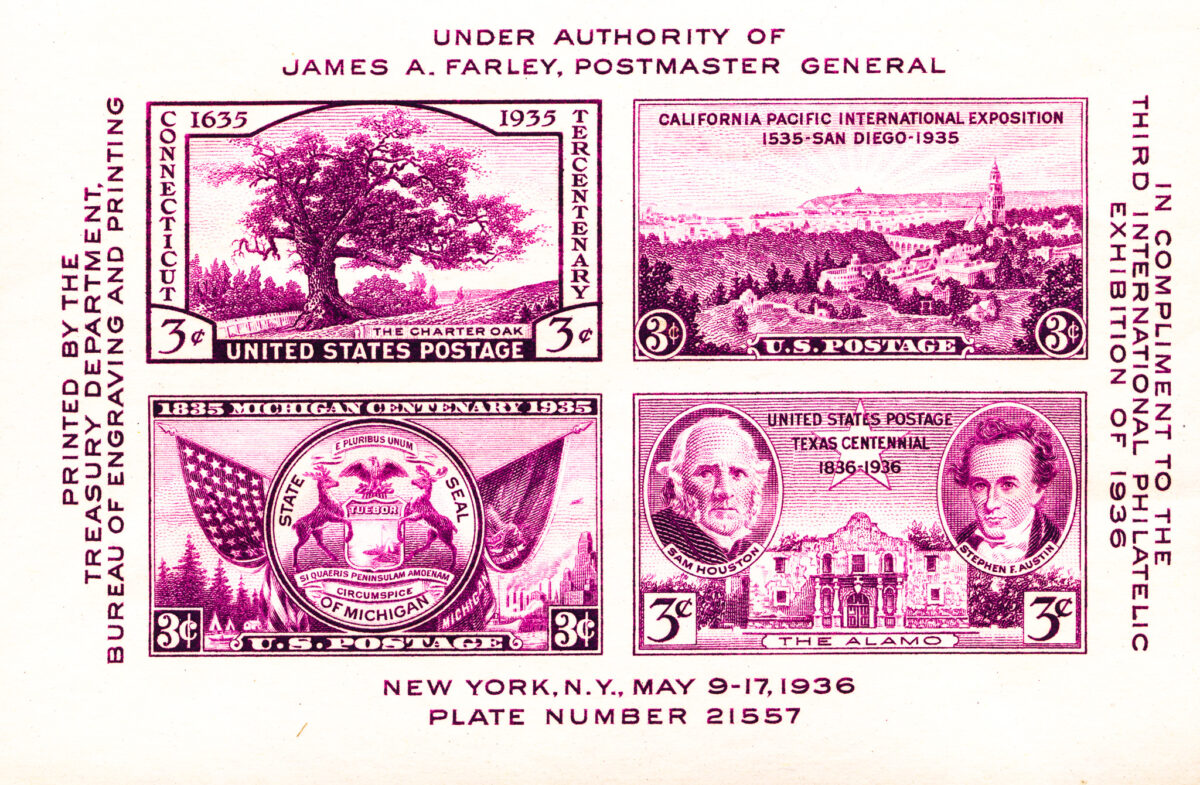 US #778 – Third International Philatelic Exposition – Issued for TIPEX in New York City, this souvenir sheet included four different postage stamps, all of which had been issued individually during the past year. Each stamp carried a 3¢ denomination. The stamps commemorate the Connecticut Tercentenary, the California Pacific Exposition, the Michigan Centennial, and the Texas Centennial.
---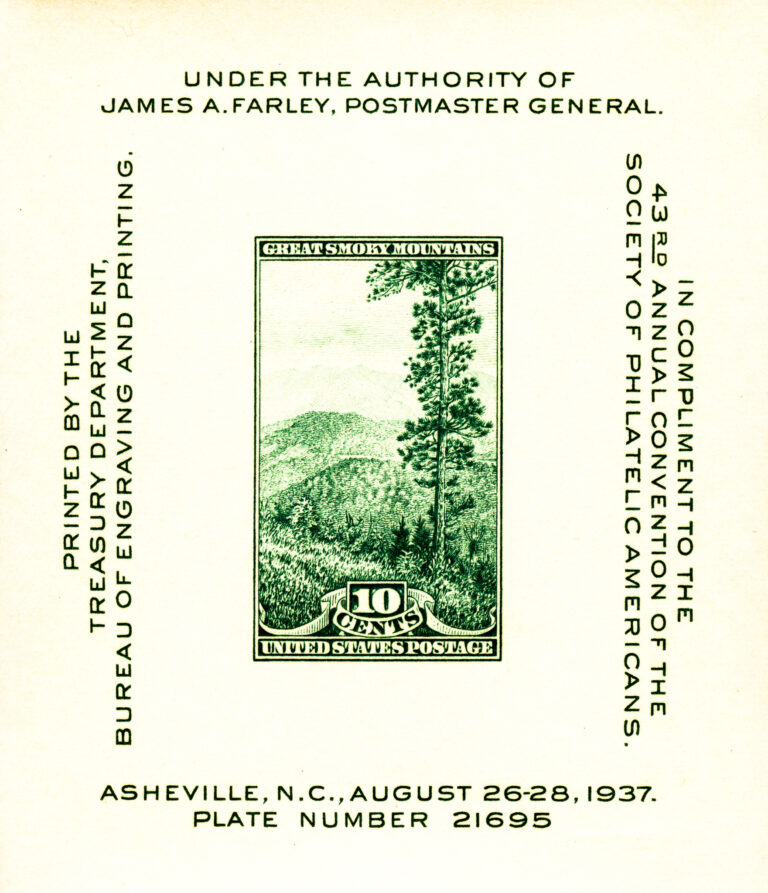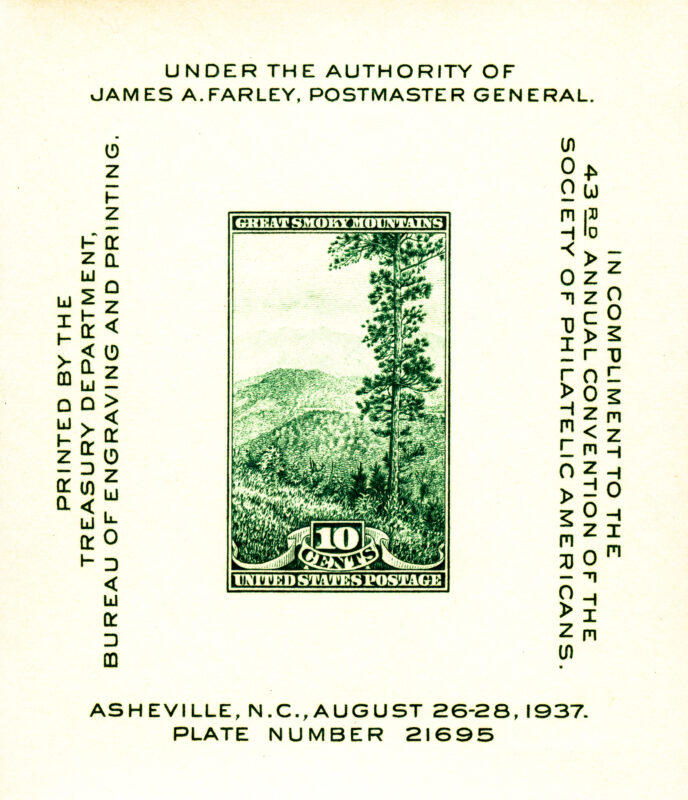 US #797 – Society of Philatelic Americans Convention – Issued in conjunction with the SPA Convention in North Carolina, this sheet features the first US stamp design created by a woman. The stamp pictures Great Smoky Mountains National Park.
---
Thanks to Mystic Stamp Company for the descriptions.