I had the week of Thanksgiving off from work, and early in the week began setting up a new aquarium. It's been 10 years since we dismantled our tanks before moving back to Lindsborg and I've successfully fought the urge to set up tanks since then, but this time I gave in.
I'm doing something different this time. I set up a planted tank in a 20 gallon long glass aquarium. The tank is located in my (home) office, taking the place of a defunct printer. I have a low tolerance for extraneous noises and sounds, so this is a bit of a challenge. So far it's worth it, as I get a great view of the tank every time I enter my office from getting coffee, lunch, etc. Plus it's there to see if I just swivel my chair around; great stress reducer!
It's filtered by an Aquaclear 130 hang-on-back unit with a foam block, bag of carbon (soon to be removed) and ceramic bio-balls. (The current filter is fine for now, but I may move to a Fluval canister in the future.)
The tank is lit by two 6000K 24W T5 HO fluorescent tubes running 12 hours a day. I originally tried a Fluval 8W LED light, but it provided insufficient light for the plants (and the color temp, at 7200K, was a bit too cool for the plants though I personally liked it a little better.)
The substrate is CaribSea Eco Complete. I love how it looks! Also, it may be helping with the cycling process and is certainly good for the plants, both providing some nutrients as well as being a suitable (though not perfect) planting medium.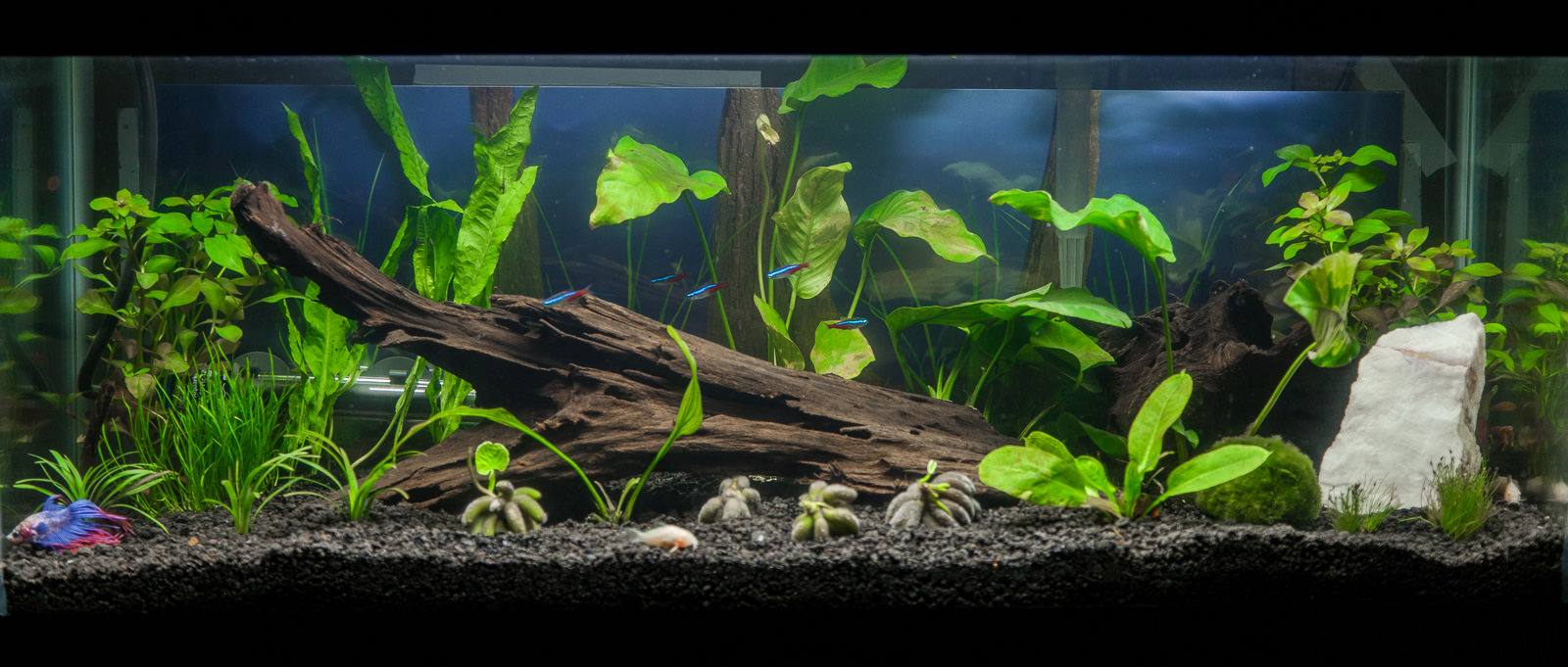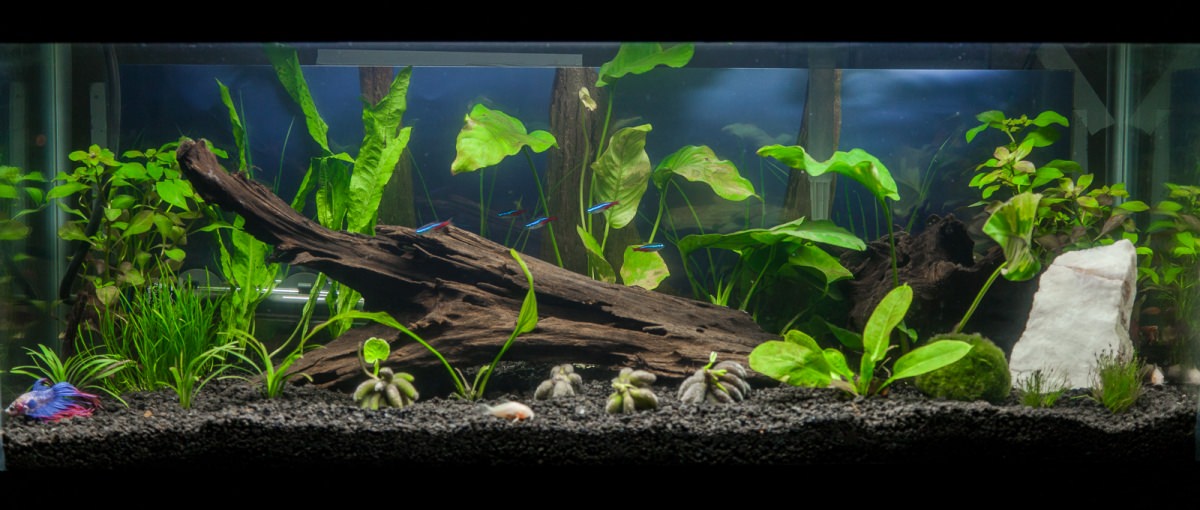 The above photo shows a view of the tank when it's about 10 days old. The last image of the post shows it before I added the driftwood, when it was about a week old.
Plants include a Java Fern, 2 Anubias nana (only ordered 1), a moss ball, 4 banana lilies (ordered 2), some dwarf hair grass, a micro sword and some Ludwigia, all from LiveAquaria.com. In addition, there's another Anubias, an Argentine Sword, a rosette and something called Kyoto grass that I've since read probably won't work well, all from Petco. Thanks, LiveAquaria, for the extra plants!
Overall, the plants are doing well. The only real problems are the two Anubias nanas are looking a bit sad, and the bananas were all covered with a gray algae/slime a few days ago. I rinsed them in diluted hydrogen peroxide and washed off all the gunk twice in 3 days. When it came back again I just left them alone and the cory cats started eating it. Whatever it was, it never spread and is mostly gone now.
Oh, and I'm a bit concerned about the dwarf hair grass, nothing specific, just a bit worried as it's supposed to be a bit of a challenge to grow.
But overall the plants are standing tall and looking pretty healthy and I'm keeping an eye on those that seem to be struggling.
The fish currently in the tank include 6 neon tetras, 3 cory cats and one betta. They are all healthy, though one of the original 7 tetras did die.
The ammonia is still almost nil and it's not quite yet time for nitrite. The plants may be helping here, but I'm not an expert by any means.
I'm not dosing with CO2 but probably will get a gauge just to keep an eye on the levels. I am adding Seachem Flourish Excel, a carbon supplement.
Overall, almost two weeks in, I'm pretty happy with the state of the tank. Stay tuned for updates as the tank grows and changes. Right now the banana lilies are sending off shoots and 2 of the Anubias have new leaves as does the rosette.
There are also additional photos in my 20 Gallon Planted Tank set on Flickr.